News
Our first generation of ideation grantees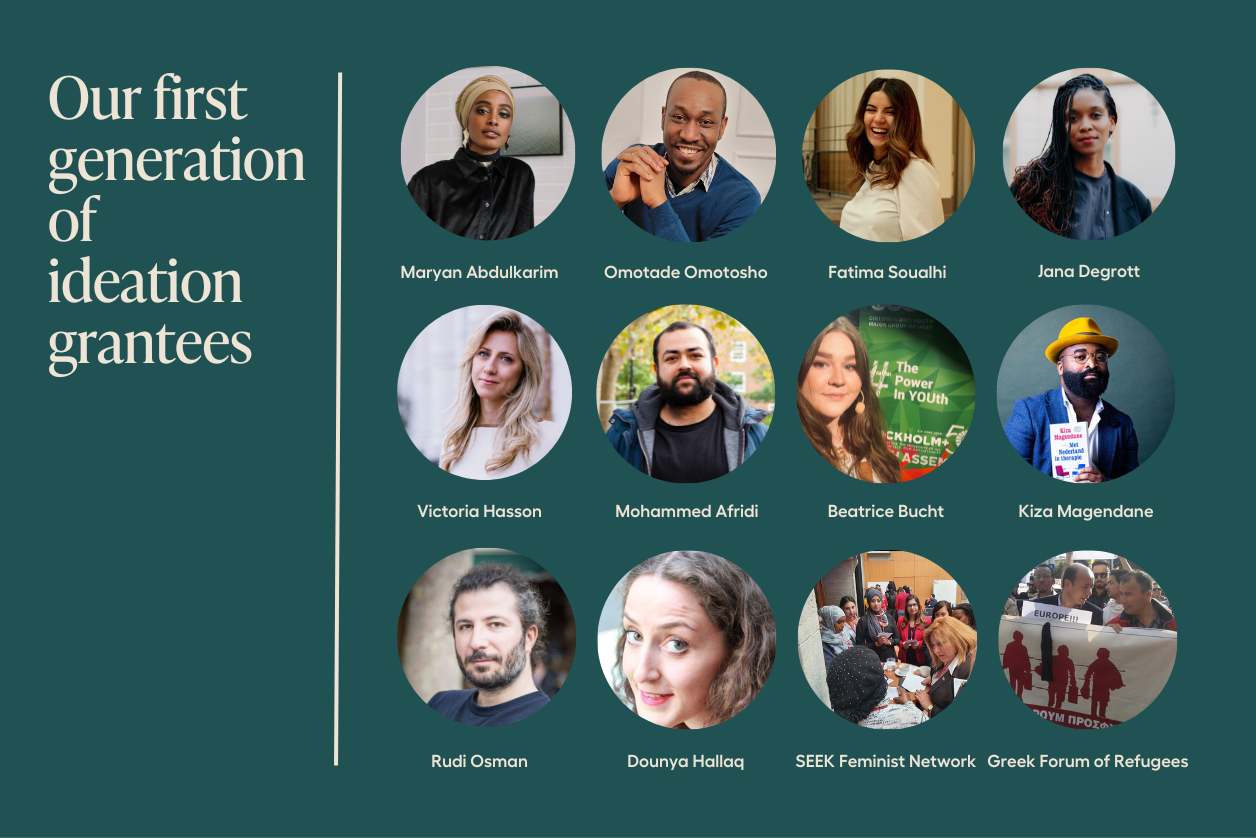 When we designed our support framework for political changemakers, we wanted to make sure to provide the time, the space and the resources for new ideas and approaches to be tested. That's why we conceived our ideation grants, €10.000 grants to support individuals and organizations willing to imagine new ways to make politics more inclusive, hopeful and human all over Europe. Today we announced the first generation of ideation grantees, who will develop their projects in the coming months and collaborate through our community of practice. These are their names:
Maryan Abdulkarim, Writer. Maryan wants to address the lack of representation and political power among political minority groups in Finland. She will start by identifying the existing obstacles and then create a first set of tools to remove them.
Omotade Omotosho, Lecturer and Social Entrepreneur. Omotade will use his ideation grant to lay the foundations of a platform and infrastructure to support people of African descent in Poland to be politically aware and participate in political processes. 
Fatima Soualhi, Racial Justice Advocate. Fatima wants to address deep-seated societal and political issues that have marginalised women of colour in Italian politics for far too long. Her project aims to challenge the status quo by equipping young women with the tools they need to overcome existing barriers.
Jana Degrott (Social Entrepreneur & Politician) & Victoria Hasson (Democracy Expert & Political Wellbeing Coach). Jana and Victoria are planning to test a constellation of political wellbeing support with young women politicians. This includes hosting one-on-one political wellbeing sessions and designing the outline of a political wellbeing course targeting the pain points of being a young female politician. 
Mohammed Afridi, Civic Organizer. Mohammed is going to identify new ways to foster collaboration across the UK democracy space and to develop mechanisms for existing democracy institutions to engage with communities that they have historically failed to engage or represent meaningfully.
Beatrice Bucht, Civic Organizer. Beatrice plans to start "Icebreakers", a political leadership incubator for young people aged 18-25 from the European Arctic in Sweden. 
Kiza Magendane, Writer and Policy Advisor. Kiza is going to create a training program aimed at assisting youth political organizations in the Netherlands in recruiting and retaining more members of African descent. 
Rudi Osman (Human Rights Advocate) & Dounya Hallaq (Researcher and Project Officer). Rudi and Dounya will use their ideation grant to set into motion "The Parliament of Exiles", a project designed to give a voice to exiles so that they can represent themselves and enter into dialogue with the state and all the players in society, and to create new generations of leaders among this community.
SEEK Feminist Network. This migrant women-led organisation will use their ideation grant to work on the project "Rise and Shine", which aims to support feminist leadership among migrant and refugee communities in the cities of Amsterdam and The Hague.
Greek Forum of Refugees. This organisation started as a grassroots movement in 2001. Their plan is to explore mechanisms to increase awareness among migrant and refugee communities regarding their political rights, focusing on empowering and facilitating connections for individuals who are already enthusiastic about participating in political campaigns.